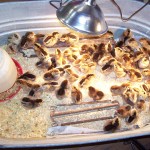 In the spring, summer and fall  we sell baby chicks, turkeys, ducks, geese, and guineas. (We are not a hatchery and do not ship chicks).  We do carry full-grown laying hens and roosters year- round. (We can not ship full grown hens or roosters).  Check out the link to the different breeds we have available either by special order or in stock.  Call us (804-598-4021) for pricing and to place an order.
Check out our listing of poultry and prices that we have in stock.  Please remember that prices and breeds change constantly depending on age and sales.
Frequently Asked Questions:  Resource on how to care for your baby chicks and backyard flock.
Do you want to raise Fast Grow Cornish Giants to butcher?  Check the link for my stats on a batch we raised.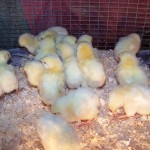 Need a house for your poultry?
Chicken House:  Check out our small chicken barn and hutch option
Other Links of Interest: