Join our Infinia, Exclusive and Red Flannel Pet Clubs
Buy 8 bags and get 1 free
Infinia
Exclusive pet food (18 & 35 lb size only) 
Red Flannel (20, 40 & 50 lb. sizes)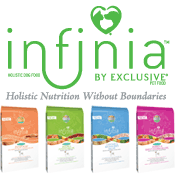 Infinia Holistic™ pet food is a holistic nutritional formula that knows no boundaries. Fresh, never-frozen chicken or turkey, or savory, natural bison or salmon is the first ingredient in every bag, followed closely by a variety of flavorful superfoods. In fact, it's so full of goodness, there's no room for unnecessary fillers. Every single ingredient works together for your pet's health and wellbeing. The result? A recipe with ingredients to support immunity, vitality and longevity.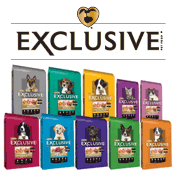 All Exclusive® pet food formulas are thoroughly researched and quality assured for balanced nutrition pets will enjoy. Our blends are inspired by the comforts of home: fresh, never frozen chicken, or savory, natural lamb, hearty flavors and other wholesome hard-working ingredients. And we guarantee that you'll never find unnecessary fillers. It's a promise you can see: healthy vitality, shiny coat and easy digestion.
Each PMI Nutrition® Pet Food has been developed and proven through extensive research to exceed the recommended nutritional levels established for your pet. Each product has to meet PMI Nutrition's stringent standards for quality, nutrition, palatability and digestibility. PMI Nutrition's formulas are complete and balanced for all breeds and all life stages of your dog or cat.
We also sell Sexton and Chestnut Mountain Dog Food
Other Links of Interest